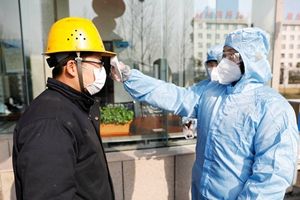 BEIJING, Feb. 19 (Xinhua) — China is adopting more targeted measures and incentives to help both big and small firms resume production, with headway made in kick-starting key provincial economic engines and vital industrial sectors, the top economic planner said Wednesday.
"Thanks to concerted efforts of all sides, we have made positive progress in resuming work and production. Over half of major industrial enterprises in economic powerhouses such as Guangdong, Jiangsu and Shanghai have resumed their production," Tang Shemin, an official with the National Development and Reform Commission, told a news conference in Beijing.
Besides, 36 out of 37 key grain and oil processing enterprises are back on track, while 80 percent of major firms in the nonferrous metals industry have reopened. Producers of disease prevention-related materials registered marked progress in work resumption — face mask factories are up to their ears with over 100 percent of their production capacities in service.
Noting that micro, small and medium-sized businesses reported slower progress in resumption amid issues including understaffing, hindered transport and disrupted supply chains, Tang said authorities are proactively formulating solutions to address their difficulties.
The NDRC will work with other related authorities to guarantee production factors for businesses, with focused efforts on accelerating the return of workers in an orderly manner, meeting normal corporate financing demands and ensuring smooth freight flow.
To help enterprises meaningfully lower their production and operational costs, China vows solid implementation of a temporary toll-waiving policy for road transport, lowering employers' contributions to the old-age pension, and deferring employers' payments to the housing provident fund, Tang said.
At a State Council's executive meeting held Tuesday, Premier Li Keqiang said, "Keeping employment stable is a pressing priority in the course of advancing epidemic control and economic and social development. This requires the stable performance of corporate China. It is important to promptly introduce policies bolstering businesses, especially micro, small and medium-sized enterprises. The sound development of such businesses is vital to stable employment."
To see that the return of rural migrant workers is well organized, the Ministry of Human Resources and Social Security has set up a service and coordination group to work closely with other related authorities to ensure that workers return to work safely, said Song Xin, an official with the ministry.
Cross-regional coordination has been enhanced. For example, provinces of Sichuan, Yunnan and Guizhou, all major sources of migrant workers, have established coordination and communication mechanisms with coastal regions of Zhejiang and Guangdong to facilitate return in large groups.
For concentrated groups of workers, services including chartered long-haul coaches and trains have been offered to transport them from home to workplaces with as few stops in between as possible, Song said, adding that health monitoring and protection is beefed up for migrant workers during their trips.